PIAIP Organising Showcase of Talent, Hope & Joy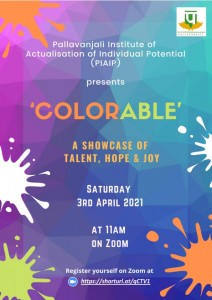 Pallavanjali Organising Webinar on Social Story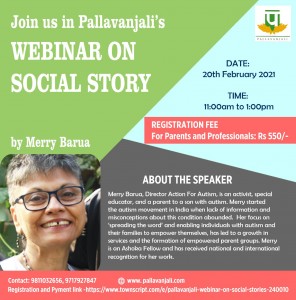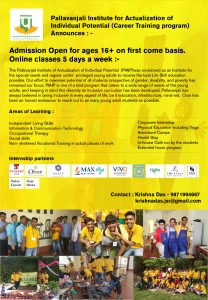 Pallavanjali Webinar on
Disability & Community Conduct by Krishna Das, Head Career Training Program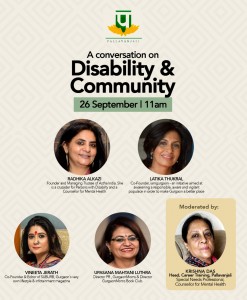 Pallavanjali Webinar on
Sibling Stories Conduct by Krishna Das, Head Career Training Program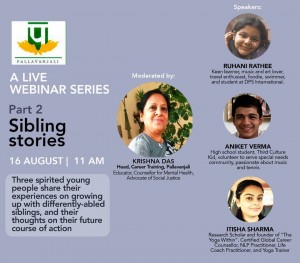 Pallavanjali Webinar on
Parents stories during the Pandemic Conduct by Krishna Das, Head Career Training Program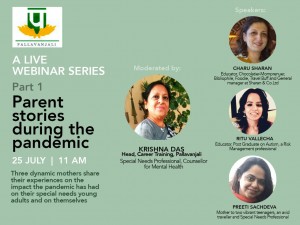 Pallavanjali Webinar on
DO SIBLINGS OF CHILDREN WITH SPECIAL NEEDS FEEL IGNORED?
Conduct by Krishna Das, Head Career Training Program 
Article published in Suburb Magazine for details click on below link 
Pallavanjali Celebrate Janmashtmi
Celebrating Janmashtmi on MS Paint using colours, paint,shapes and lots of imagination.
Happy Janmashtmi to all…
Super Parents Funday Event by Pallavanjali
The culmination of our hard work was a very well appreciated event "Super parents Fun Day"
100 people under one roof with the same cause in mind was mind blowing. To add to that Parents panel sharing experience from their journey bringing up their special need child, Microsoft sharing their latest Accessibility tools, Anshu Mor the stand up comedian keeping us in splits,Play by parents, Goody bags, lucky dips and much more.
Already waiting for the next year :
Proud moment for Pallavanjali
Our student Rachna Saroha won two silver medals in Special Olympics in Sweden.
This is about being
"ALL IN IT TOGETHER" "FINDING HAPPINESS "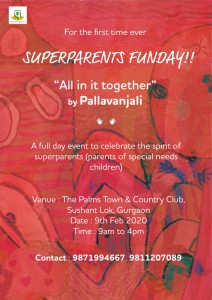 Class 3 and 4 visit to the Rail Museum
Children's day celebrations
Gurpurab Celebrations
Class 5and 6 Visit to Sikander Lodhi tomb. Learnt about our cultural heritage. Explored Lodhi garden.
Special Assembly for Diwali presented by class 7 and 8
Preparations for Diwali
Airtel Delhi Half Marathon
Pallavanjali students participated in Airtel Delhi Half Marathon at Jawaharlal Nehru Stadium. Our young enthusiasts displayed their strength and determination to complete the Marathon.
Dussehra celebrations
Literacy Week Celebrations
Swimming Competition at Step by Step School, NOIDA
Our students participated in swimming competition conducted by Step by Step School Noida. Won gold and bronze medals. Congratulations to our champions Aditya Vallecha and Dhruv Chopra.
Janmashtami Celebration 2019
Independence Day Celebration
Parenting Beyond Labelling
Pallavanjali parents had an opportunity to hear a talk by Dr. Roma Kumar on "Parenting Beyond Labelling". They learned ,questioned and assimilated information. At the end Parents take home was immense and wanted more.Thank you Dr. Roma Kumar.
Respect and acceptance: 
Our 15- 18 year old invited their friend's grand parents to share a morning with them . It was most joyous time spent together for the one's who do not have their grandparents in their lives. Thank you.
For us at Pallavanjali was even more special as the parents appreciated the gesture and requested us to do more such activities.
Some comments from other parents :
'Thanks to the wonderful teachers for all their care and guidance. We are blessed to have you around our children. Sincerely appreciate all your efforts and dedication.
Sensory day – SPLASH OF RAINBOW

Feeling proud with L3 student interning with Palms Country Club, Gurgaon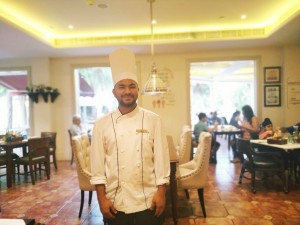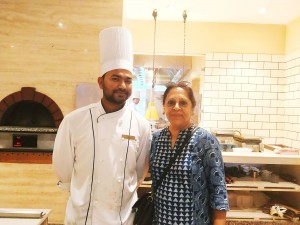 Sensory day (May 2019)
Theme : " BEAT THE HEAT "
This theme was based on water play. Students performed car wash, swimming pool, and pool foot ball inclusively.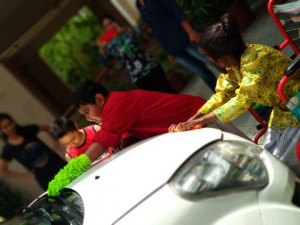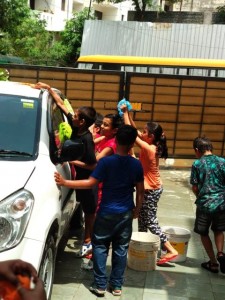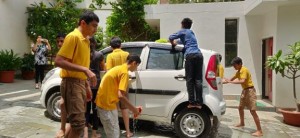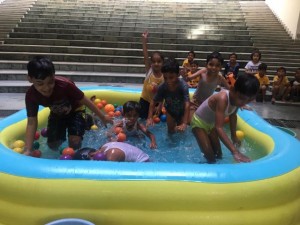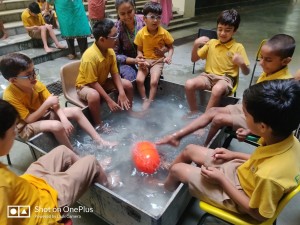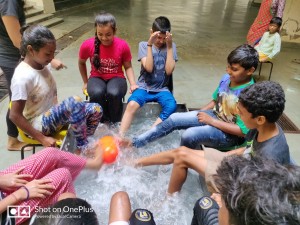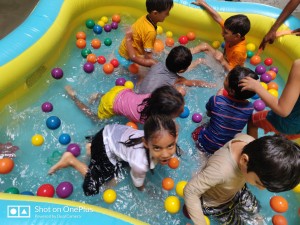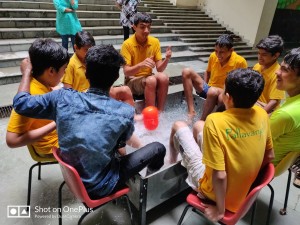 Sensory day ( April 2019)
Theme: "MESSY FUN AND GETTING STUFF DONE"
This theme was mainly focusing on tactile and visual-motor learning.Students explored soil, foam, flour, oil, water, water beads for purposeful sensory play. Activities:
1.Magic sand
2.Knead to play
3.Lay the eggs
4.Rainbow tub
5.Wheel-e-art
6.Washing station
7.Plant a seed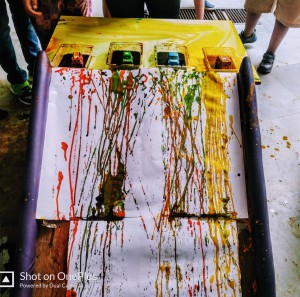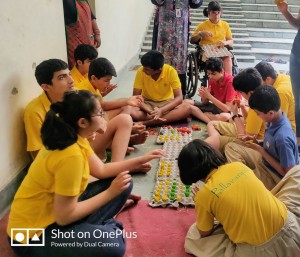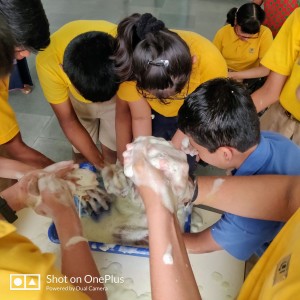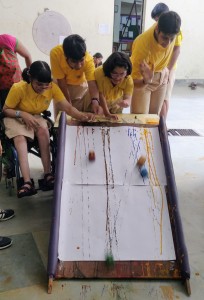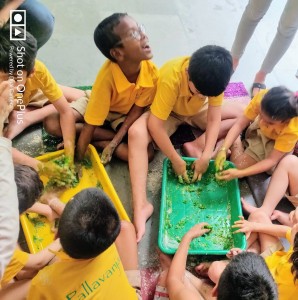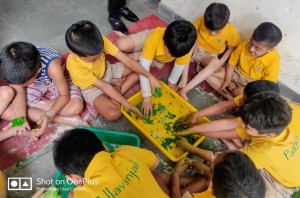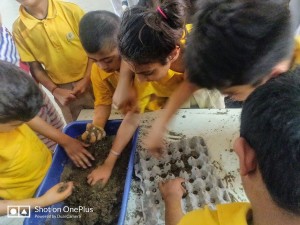 Pallavanjali celebrated its Annual Showcase on 8th March 2019
Pallavanjali's New Partners
PIAIP is happy to announce their new partnership with Hotel Hyatt Place Gurugram.
For students from our level -3 programme has been selected for their six months internship at this 5 star business hotel. They will start in mid march.
Two of our students have been selected for none months training at Indian School of Hospitality. They have been awarded full scholarship (cost 5 lakh).
Pallavanjali celebrated his 2nd Inclusive Mela on 22nd December 2018
Pallavanjali Sports Day on 8th December 2018
Pallavanjali Sensory Play Workshop on 17th November 2018
Under the parent partnership program Pallavanjali held its first workshop on 'Sensory Play' for age group 5 to 10 years.
Parent's feedback
Workshop Pics
Pallavanjali Night Stay on 16th November 2018
Pallavanjali Celebrate Children's Day on 14th November 2018
Pallavanjali Nights
Pallavanjali School strives on the pillars of practical knowledge and exposure instead of only learning the books. 31st Oct 2018-   As the Nation Celebrated Jayanti of Sardar Patel-Statue of Unity unveiled by PM Modi- we too got together in school for a night stay for Fun for Unity. The main objective behind this was to imbibe values like self-dependence, beating the fear of darkness, adjustment, helping, sharing, caring, being available for each other etc. Creativity was at its peak when the theme of Halloween was shared with the kids and Zumba party decoration, Birthday celebration, home visit; games like Blind man's Buff, musical chair and other activities were organised.
PIAIP Alumni meet on 5th October 2018
We had a blast during the PIAIP Alumni meet on the 5th of October. 45 ex-students across PIAIP programs turned up for the event. Students came straight from their workplaces being a week-day evening dressed up in formals some suited booted with a tie. All excited to meet each other and share their work experiences. It was an electrifying evening listening to the students, each of them reiterating that they were proud to be a student of PIAIP program which enabled them hugely in their career. The present batch of students helped plan the event meticulously. Summing up the feeling of the evening it was like "we had joy, we had fun, we had seasons in the sun" from the very famous number sung by Terry Jacks.
Staff Workshop on Microsoft Windows 10 & Office 365. 29th September 2018
Pallavanjali staff had an opportunity to attend the first workshop on Accessibility& Learning Tools in Windows 10 & office 365 for Educators. This was organized by Microsoft on 29th September 2018 at Pallavanjali.
PIAIP Café
PIAIP Café started catering to the staff and the Second Chance Hostel boys 5 days a week from 10th July 2018. What started as a weekly activity for the adult student as part of their Independent Living Skills program is today a full-fledged Café catering to around 25-30 lunch orders daily. Two students have been given employment in the Café.
Pallavanjali Showcase February 2018
Pallavanjali Mela December 2017
Pallavanjali Sports Day December 2017
This was Pallavanjali 12th Sport Day. As always events in the sports day were inclusive. The children marched, showed their skills in drill and ran races.
Kinesiology & Adaptive Physical Activity Workshop May 2017
Pallavanjali Organised 3rd Kinesiology workshop. Purpose of this interactive movement day is to introduce families and children to a variety of games and movement experience to enhance learning and joy.  Activities will focus on cooperation, social interaction, object control, gross motor skills and FUN! Parents and children will also have an opportunity to make a piece of equipment to take home and will be provided with a list of simple easy to use activities for the home.